The Richest Gamblers in the World and How They Made Their Fortunes
There are many ways for people to win money while gambling. You can get good at poker or blackjack through years of studying, you could get lucky at the slots, or you could become a professional sports better. However, for every person that makes millions through gambling, there are hundreds that lose money. Here we will take a look at a few of the richest gamblers in the world to see how they made their millions.
Bill Benter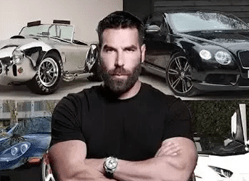 Bill Benter is one of the richest gamblers in the world and takes in more than almost anyone annually. It is estimated that he takes in an average of $100 million every year. He got his start in the industry as a blackjack player out of university. He spent seven years in Las Vegas before being banned because he was winning too much. When this happened he moved to Hong Kong to create a formula that would help predict the results of horse races. The software he created is one of the most successful gambling softwares in the world.
These days he does not spend much money on blackjack. Instead, he spends most of his time betting on horse races. There are days where he takes home up to $10 million in a single day. This makes him the most successful gambler in the world. However, he does not hoard his wealth and is a respected philanthropist.
Tony Bloom
Tony Bloom is another one of the richest gamblers in the world. He has an estimated net worth of $1.7 billion. He is famous for his success as a poker player and sports better. He is a legend in the world of poker, and today he is a football club chairman. These days he does not gamble as much, but he is the owner of the UK's largest gambling consultancy syndicate, Starlizard.
Bloom started his career as a poker player before it was legal. He used a fake ID when he was 15 years old to place bets and enter tournaments that had age restrictions. As a young adult, he spent a few years as an accountant and trader. Later he decided he wanted to become a professional sports better, and he was very successful.
Edward Thorp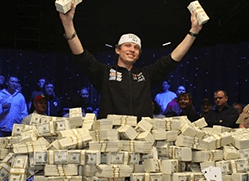 Another one of the richest gamblers in the world is Edward Thorp. He has a net worth of $800 million and specializes in blackjack and baccarat. Thorp was a mathematics professor with a master's degree in physics and a doctorate in mathematics. He used his knowledge and experience to become an expert in card counting. He eventually became known as the father of card counting. Thorpe is known for having invented the original card counting system and using it in real world situations. Later in his career, Thorp wrote a book called "Beat the Dealer: A Winning Strategy for the Game of Twenty One." In this book, he went into detail on how he created his card counting system and how other players could use it.
Casino bosses were attracted to Thorp because he would win ridiculous amounts of money. They did not understand how he was so successful at blackjack. After all, this was before counting cards was something casino bosses would look out for. Eventually, Thorp applied his knowledge of mathematics to the stock market. So, although he made a tremendous amount of money gambling, he actually made his fortune in securities and hedge funds.
Andrew Black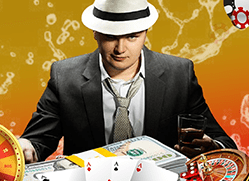 Andrew Black is the last one of the richest gamblers in the world that we will be looking at today. He has an estimated net worth of $670 million, and he is famous for horse betting and his success as a bridge player.
As a young adult, Black worked in a derivatives business, and during that time he became a successful gambler. He was a very good bridge player, and he eventually made enough money to quit his job to become a bridge player full time. Since he knew that there was no security in gambling, he started a software business. This software he created as a part of the business eventually became very useful for investing in the stock market.
Today Black plays bridge occasionally, but when he gambles, he primarily bets on horse races. He has the ability to place massive bets because he helped launch Betfair, a company that is valued at 1.4 billion euros by the London Stock Exchange.
When you are looking at the richest gamblers in the world, it could be easy to think you could reach those heights. Unfortunately, that is not particularly likely. Instead, it is far more likely that you will lose the money you put in. The people that win consistently when gambling study for many years and are borderline geniuses. On top of that, they had an extraordinary amount of luck.